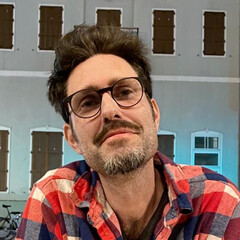 Idan Shani
A Freelance Illustrator ◆ Concept Artist ◆ UX/UI Designer
Tel Aviv, Israel
About
I am a multidisciplinary visual designer with experience in illustration, Concept art, UX/UI Design, custom logos and icon sets.
I welcome any challenge or brief from clients and delighted with delivering professional, innovative results.
The core principles of my creative practice are clear visual communication and aesthetics.
I use an eclectic combination of tools, including Adobe Photoshop, Blender, Procreate, Infinite Painter,Gravity Sketch VR, pencils, Sharpies, and erasable markers.
Skills
Digital Painting
Drawing
Illustration
Graphic Design
Motion Graphics
UI Design
Branding
Software proficiency

Photoshop

Animate

Sketch App

After Effects

Affinity Designer

Illustrator

Blender

Procreate

Infinite Painter

Gravity Sketch

shapr3d